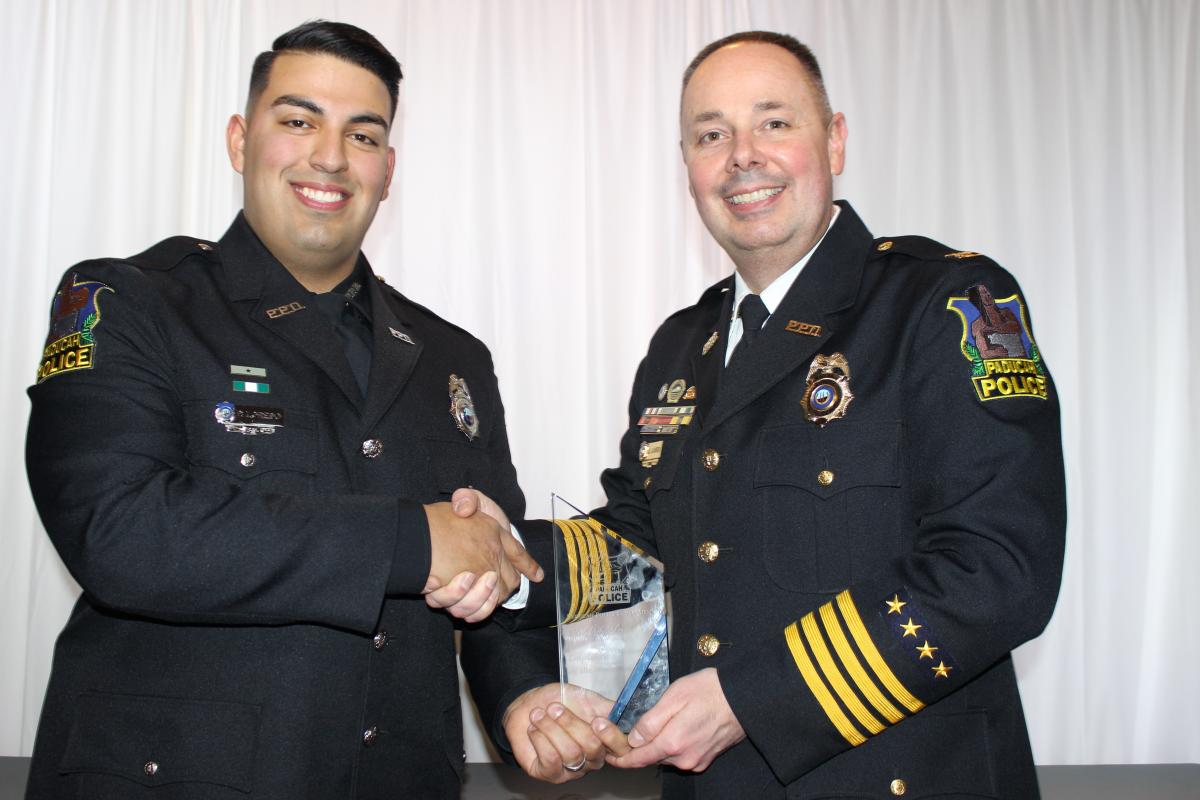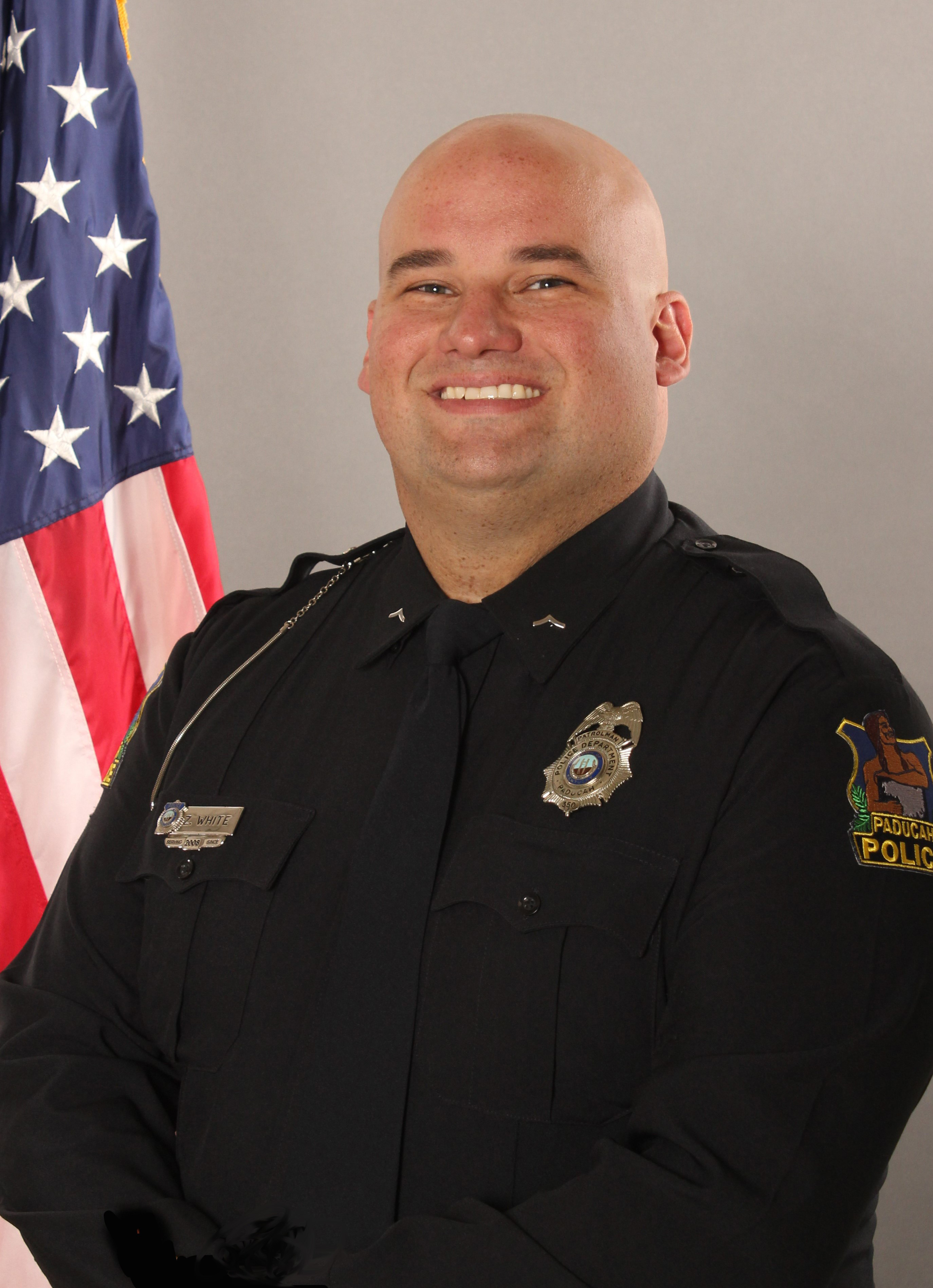 Pictured: Officer Pedro Loredo accepting award from Chief Brian Laird; Officer Zane White
The Paducah Police Department honored more than 30 officers and civilian employees, and nine Paducah citizens Thursday night for their outstanding acts of duty and service to the community in 2022. 
Officer Pedro Loredo Jr. was named the department's Employee of the Year for 2022, and he and Officer Zane White received Meritorious Service Awards, the second-highest award given by the department.
The department's annual Awards Ceremony was held at Walker Hall. 
Loredo has been an officer with the Paducah Police Department just four years. But he had the most DUI arrests in the department and received the Governor's Safety Award for Impaired Driving in 2022. He made 600 traffic stops, resulting in 44 criminal citations, 196 traffic citations and 173 courtesy notices. He served 57 warrants. 
In August 2022, Loredo was in the area of H.C. Mathis Drive and Park Avenue when he heard a gunshot and saw a man pointing a gun at people on the parking lot of a convenience store. Without hesitation, Loredo drove into the parking lot of the store and chased the gunman on foot, taking him into custody before he could harm anyone else. Loredo remained calm and provided vital information to other responding officers and medical personnel. The investigation revealed the man shot two people and robbed one of them. It was for this incident that Loredo received a Meritorious Service Award, as well. 
 
Officer White received a Meritorious Service Award for his work at a tractor-trailer/pickup truck crash that actually occurred outside the city limits. The pickup truck had caught fire with the driver trapped inside, and city officers were able to respond quickly to assist the deputy on scene.  White and the deputy used multiple fire extinguishers to help keep the fire from engulfing the truck. 
 
Without regard for his own safety, Officer White endured heat, nearby flames and heavy smoke to help ensure the safety of the driver. 
 
The following nine citizens received Citizen Service Awards: 
Corey Goatley, for assisting an officer in dealing with a suicidal subject on the Beltline overpass on July 2, 2022.
Kent Cadwell, for administering CPR to a man who collapsed at the pickleball courts at Noble Park on July 20, 2022.
Terrance Brown, who assisted officers in subduing a hostile, aggressive man who was threatening to jump off the balcony of a local motel on August 10, 2022.
Amy Richards, Josh Franklin, Jacob Franklin and Brice Wilkerson, who on Sept. 15, 2022, pulled a man suffering a seizure from a wrecked vehicle at Olivet Church Road and Hinkleville Road, allowing first responders to immediately assess his condition and begin CPR when they arrived on-scene.
James "Darren" Sparks, who stopped August 19, 2022, to assist an officer fighting with a suspect at Olivet Church Road and Enterprise Drive, allowing the officer to subdue and arrest the subject.  This is Sparks' second Citizen Service Award; he received one last year for helping a motorist in a broken-down vehicle out of traffic on a busy highway, potentially preventing a collision.
Brandy Elliott, who on Oct. 14, 2022, freed two elderly women from a wrecked vehicle that was teetering on top of a culvert, and escorted them to the vehicle of another motorist who stopped.  She stayed with the women until officers arrived. 
Officers Brandon Cupp, Dylan Cook and James Robbins received Lifesaving Awards for administering Narcan to people suffering from drug overdoses in separate incidents in 2022. Officer Alex Liebenrood received a Lifesaving Award for providing first aid to a man who had been stabbed; Sgt. Jordan Murphy was awarded one for performing CPR on an unresponsive infant. 
 
Officers Ryan Euteneier and Austin Gruner received Lifesaving Awards for running between a crash scene and a nearby home, providing buckets of water to help extinguish a fire in one of the vehicles. Officers Daniel Hunerkoch and Julia Cross received Lifesaving Awards for applying a tourniquet to the arm of a man who had been badly cut, and for performing CPR on the man. 
 
Officer Keith Thuline received a Lifesaving Award for performing CPR on the driver of a vehicle involved in a collision, and Officer Matthew York received one for performing CPR on a woman found unresponsive on the ground downtown. 
 
Each of those people likely would have died had it not been for the officers' actions. 
 
Other awards presented: 
 
Officers Alex Liebenrood and William Hendrickson received 5-Year Safe Driving Awards; Det. Nathan Jaimet, Sgt. Nickolas Francescon and Assistant Chief Anthony Copeland received 10-Year Safe Driving Awards; and Officer Joshua Bryant, Det. Beau Green, Capt. Joseph Hayes and Assistant Chief Justin Crowell received 15-Year Safe Driving Awards.
Dispatcher Emilee Jones received a Service Commendation for her work at the 911 Center after a tractor-trailer vs. pickup truck crash.
Dispatchers Jones and Auston Scutt received Service Commendations for their work during a double-shooting call and the subsequent arrest of the suspect by police.
Dispatchers Hillary Fowler and Patrick Bugg received Service Commendations for their work in assisting rescuers in locating a man, stuck in an unstable tree stand, who did not know his location.
Dispatcher Stephanie Goins received a Service Commendation for her work regarding a call of a person overdosing in another jurisdiction.
Sgt. Nickolas Francescon, Officer Dylan Cook, Officer Jennifer Simmonds and Officer James Whitworth received Service Commendations for their work on a call involving a 10year-old child armed with a knife.
Detectives Corey Willenborg, Beau Green and Nathan Jaimet received Service Commendations for their work on a fentanyl-trafficking investigation.
Officer Noah Willett received a Service Commendation for his work with the department's License Plate Reader.
Officer Keith Thuline and Officer Pedro Loredo were recognized as recipients of the 2022 Governor's Occupant Protection Award and 2022 Governor's Impaired Driving Enforcement Award, respectively.
Det. Sgt. Jason Hicks received a Chief's Award for his continuing dedication to the department's investigative unit and his support of the detectives he supervises.