Kentucky Governor Andy Beshear provided the opening celebratory remarks as the community gathered this afternoon for the groundbreaking of the City Block project.  This project, a partnership between the City of Paducah and Weyland Ventures, will reenergize the downtown Paducah block bounded by Second Street, Broadway, Water Street, and Jefferson.
"This new City Block will be in the heart of Paducah. It's going to support tourism in the area, provide great experiences for local families, and generate even more economic growth in Western Kentucky," said Gov. Andy Beshear. "We're not just talking about building a better Kentucky, we're doing it, and projects like these will have a positive impact for generations to come."
The first phase of the project includes an 81-room boutique hotel along Jefferson Street with restaurant space and a roof-top bar along with public amenities including green space, public promenades, and approximately 150 public parking spaces. 
Mayor George Bray said, "The City Block project along with the upcoming riverfront redevelopment with the BUILD grant will transform our downtown, energize the historic heart of the city, and lead to additional growth for the entire community.  I want to thank Governor Beshear for joining us today as we celebrate this significant public and private investment.  I also want to thank the team at Weyland Ventures for their vision for this project and making a significant investment in downtown.  Finally, I want the community to rest assured that the City of Paducah is working hard to balance the need to maximize this community's growth with maintaining the quality of life we have all come to expect. Maximizing our growth through public and private investment, the TIF district, and infrastructure enhancements is critical to our long-term strategy."
Weyland Ventures along with the City of Paducah and the Paducah Main Street Design Committee collaborated to develop a design for the City Block project that will gracefully weave into the fabric and unique qualities of downtown Paducah. 
Weyland Ventures CEO Mariah Gratz said, "Downtown Paducah has such vibrancy and a wonderful mix of new and historic. Our goal is to expand the energy and excitement of Paducah's downtown into the City Block. Our boutique hotel will add jobs and create new retail and restaurant opportunities for the community. The new linear parks and parking configuration will provide vital outdoor space and parking to support both existing and new businesses."
Construction of the public amenities for City Block's first phase will begin the week of January 30.  Contractor, Ray Black & Son, will begin mobilizing equipment, installing security fencing, and preparing the site.  Hotel construction will begin by early spring. The second phase of the project will include the construction of a mixed-use building on Broadway with retail space and upper-story living.
For more information, visit City Block Project.
Pictured (left to right):  Commissioner Robert Buz Smith, Commissioner Raynarldo Henderson, Mayor Pro Tem Sandra Wilson, Mayor George Bray, Governor Andy Beshear, Weyland Ventures CEO Mariah Gratz, Weyland Ventures Co-Owner Kent Weyland, former Mayor Brandi Harless, Assistant City Manager Michelle Smolen, and Paducah Planning Director Nic Hutchison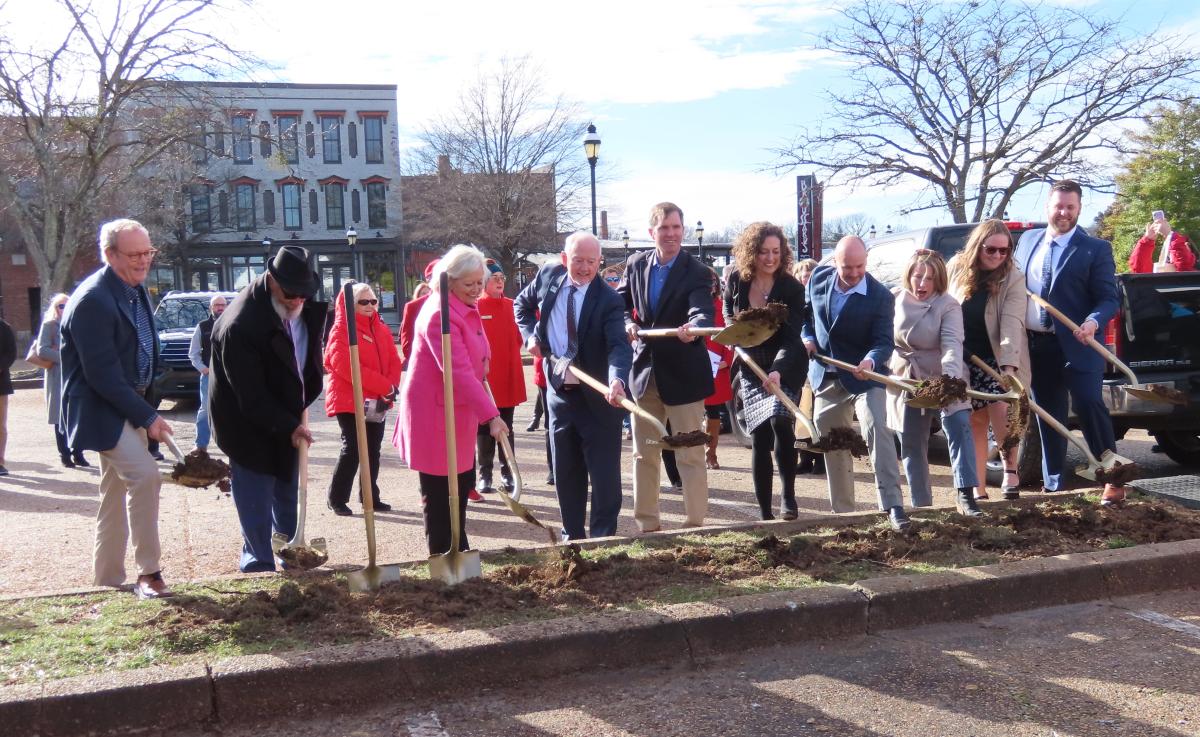 ###