Date of release:  October 28, 2021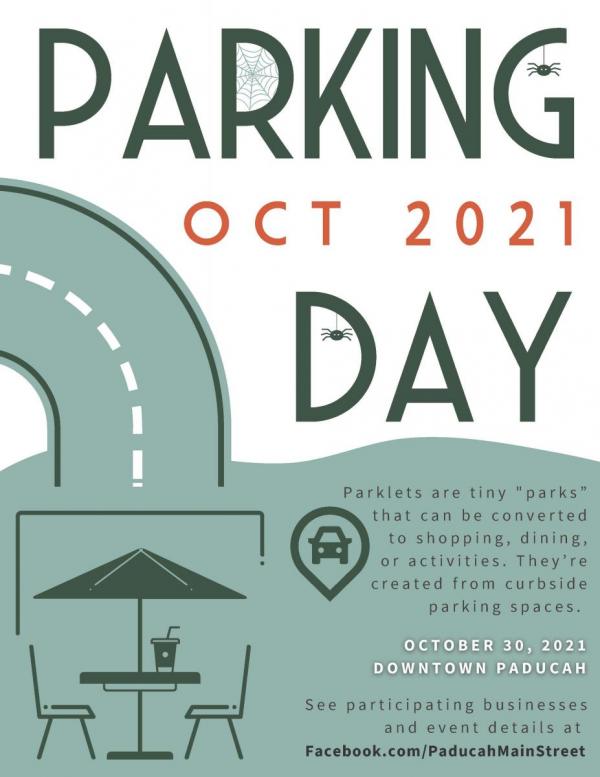 Downtown Paducah will be transformed into a Parklet Paradise when streetside parking is converted into pop-up shops and mini-parks. The inaugural Parking Day event is Saturday, October 30 from 10 a.m. until 5 p.m.
Ten businesses and organizations in historic downtown Paducah are turning a parking space in front of their establishment into a parklet which could include public art activities, outdoor dining, shopping, or benches for enjoying a new downtown perspective.
Parking Day is a national movement to temporarily repurpose street parking spaces and convert them into tiny parks and places for art, play, and more. It's a new way to think about public spaces. The idea to hold Parking Day in Paducah was brought forward by the Paducah Main Street Design Committee.
The ten businesses and organizations participating in Parking Day are as follows:
Barrel and Bond
Columbia Theater
Forever Pampered
HOME2
MAKE Paducah
Paducah Convention & Visitors Bureau
River Discovery Center
Selcouth
Tuscan Rose
Wildhair Studios' Rock Shop
Paducah Main Street, a division of the Paducah Planning Department, is dedicated to giving a vibrant downtown Paducah experience by promoting historic preservation, economic growth, and creative place-making.