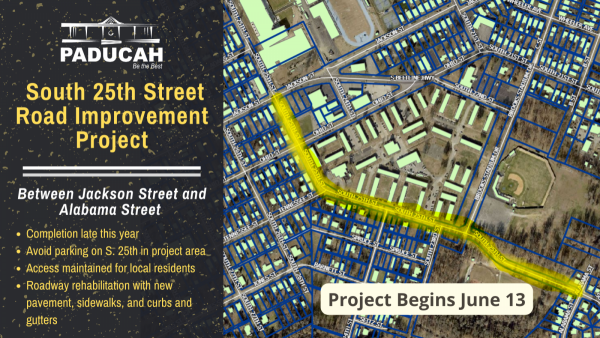 The City of Paducah has provided contractor Central Paving Company a notice to proceed for the South 25th Street Road Improvement Project.  This comprehensive project improves South 25th Street between Jackson Street and Alabama Street. 
The contractor will begin mobilizing equipment on Monday, June 13.  Once the utilities are relocated, the project involves the rehabilitation of an approximately 0.6-mile section of South 25th Street. In addition to new pavement, this project includes new curbs and gutters and sidewalks.
Mayor George Bray said, "This is a transformational infrastructure project for this section of Paducah.  By improving South 25th Street and adding sidewalks, surrounding neighborhoods will have a safer route to key locations in the city including Paducah Tilghman High School, Baptist Health Paducah, Brooks Stadium, and the Housing Authority of Paducah properties of Elmwood Court which is adjacent to the road project and Pierce Lackey which is only a few blocks away.  I also want to express my sincere gratitude to the State of Kentucky for launching this road project.  Paducah is thankful for the $650,000 in funding from the Kentucky Transportation Cabinet."
The City of Paducah also is using American Rescue Plan Act (ARPA) funding for this project.
City Engineer Rick Murphy said, "A revitalized South 25th Street will improve the drainage in the area along with significant connectivity and walkability enhancements.  South 25th is an important corridor that links several neighborhoods. Once this project is completed and once the Paducah school system completes its work around Paducah Tilghman High School, I think residents will be impressed with the infrastructure investments."
Please use caution, and watch for the work crews and traffic control devices.  Lane restrictions will be in place. During the construction period, access will be maintained for local residents.  However, the roadway will be closed to through traffic.  Avoid parking on South 25th Street until the project is completed.
Weather permitting, the expectation is for the South 25th Street project to be completed late this year.
Additional street improvement projects the City of Paducah will be completing this year in the surrounding area include
South 25th Street from Jackson Street to Washington Street next to Paducah Tilghman High School;
Ohio Street from South 22nd Street to South 25th Street;
South 22nd Street from Ohio Street to Brooks Stadium Drive; and
Brooks Stadium Drive from 21st Street to 25th Street.  This project will begin in August after the Paducah Chiefs Baseball Club's season concludes.
The City of Paducah maintains more than 220 miles of streets.  For more information including the proposed road rehabilitation plan through 2023, visit http://paducahky.gov/streets.
###