Date of release:  April 28, 2021
Recently, Mayor George Bray and Commissioner Raynarldo Henderson held the second meeting among the City Manager's office and several City staff to continue working on a vision and action plan for the Southside region of neighborhoods.  At this recent meeting, McCracken County Judge Executive Craig Clymer and County Project Manager Steve Ervin also attended.
Mayor Bray said, "We are looking at a long-term plan for this significant section of Paducah.  The Southside region is approximately one-third of Paducah's area.  Our goals are to maintain the enthusiasm and partnerships that emerged from the March public meetings by creating events that foster community pride and outreach.  Plus, we want to engage the community through both a business and residential steering committee to help determine a long-term plan for the residents and businesses."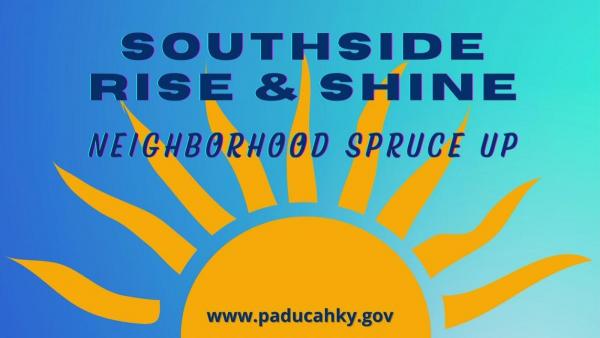 Beautification – Southside Rise & Shine:  Since beautification emerged as one of the themes from the March neighborhood meetings, the City team has established the Southside Rise & Shine Neighborhood events which will begin in June and last eight weeks.  Each of the eight Southside neighborhoods will be the center of attention for one week.  City resources from the Public Works Department will be available throughout a neighborhood's week providing additional garbage rollouts and dumpster locations for large items.  Each neighborhood is encouraged to collect litter and work to beautify homes and yards.  Each week-long cleaning event will end on Sunday with a day of volunteering and a neighborhood ice cream social.  Stay tuned for more information.
Budget Process – Setting up for Success:  With July 1 as the beginning of the fiscal year, the City of Paducah is developing its Fiscal Year 2022 budget.  Included in the budget is funding for the Southside to implement programs for business and housing incentives.
Steering Committee:  This summer with the Southside Rise & Shine events, the City will engage each neighborhood to find champions who want to assist on a Southside steering committee.  There are five areas of concentration for revitalization for the steering committee to address:  neighborhood vitality, recreation, economic development, housing, and connectivity/infrastructure. 
Stay in Touch:  If you have input about the Southside region or are interested in serving on the steering committee, send an email to southsidepaducahky.gov. 
Mayor Bray added, "It is important to the City that we stay in touch with those who participated in the two Southside meetings in March, and we add others who are interested in the vision for the Southside region." 
Enhancing the Southside region of neighborhoods is a City Commission Priority.