2023 Christmas Parade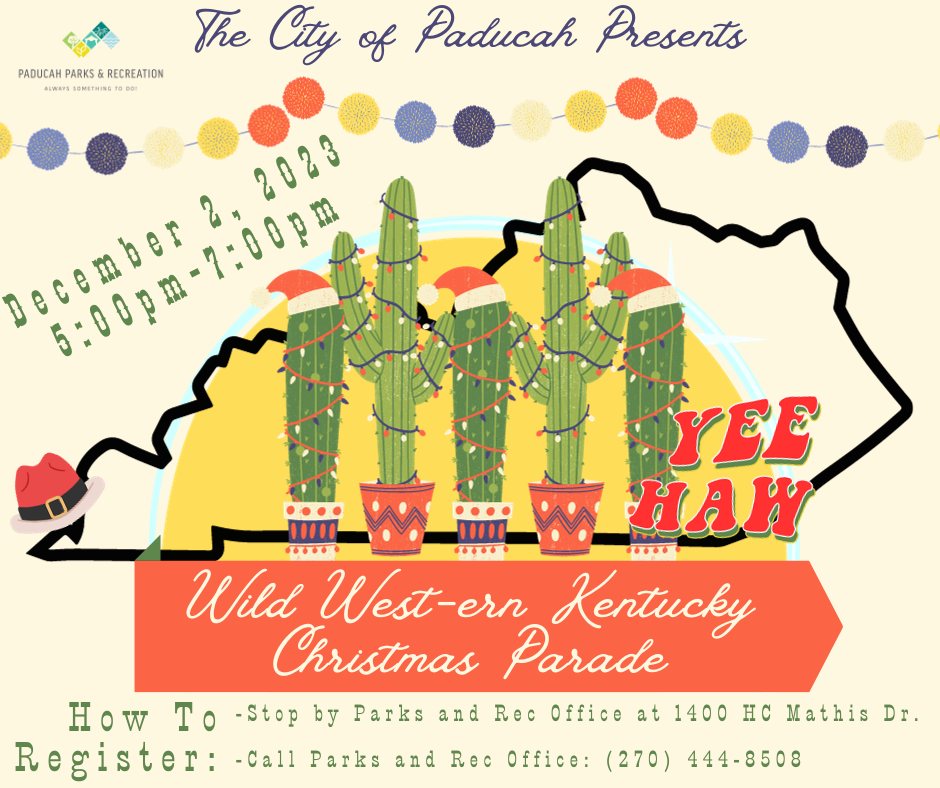 The 2023 City of Paducah Christmas Parade was Saturday, December 2 at 5 p.m. in historic downtown Paducah with the theme, Wild West-ern Kentucky Christmas.
The parade began at 14th and Broadway and travelled down Broadway to 2nd Street where it will turned left and disbanded at Jefferson Street. 
Christmas Parade Registrations: There is a $25 + tax application fee for submission before November 3. Entries submitted between November 4 and the final deadline of November 21 at noon will have a $50 + tax fee. For more information, call 270-444-8508 or email parkinfopaducahky.gov. 
Parade packets will be available for pickup for registered parade entries starting November 28 at 10:00am at the Paducah Parks & Recreation Office. We also encourage you to attend our Christmas Parade Informational Meeting on Tuesday November 28 at 10:00am. The meeting will be held at the Paducah Parks & Recreation Office located at 1400 HC Mathis Drive.
2023 Christmas Parade Entry Form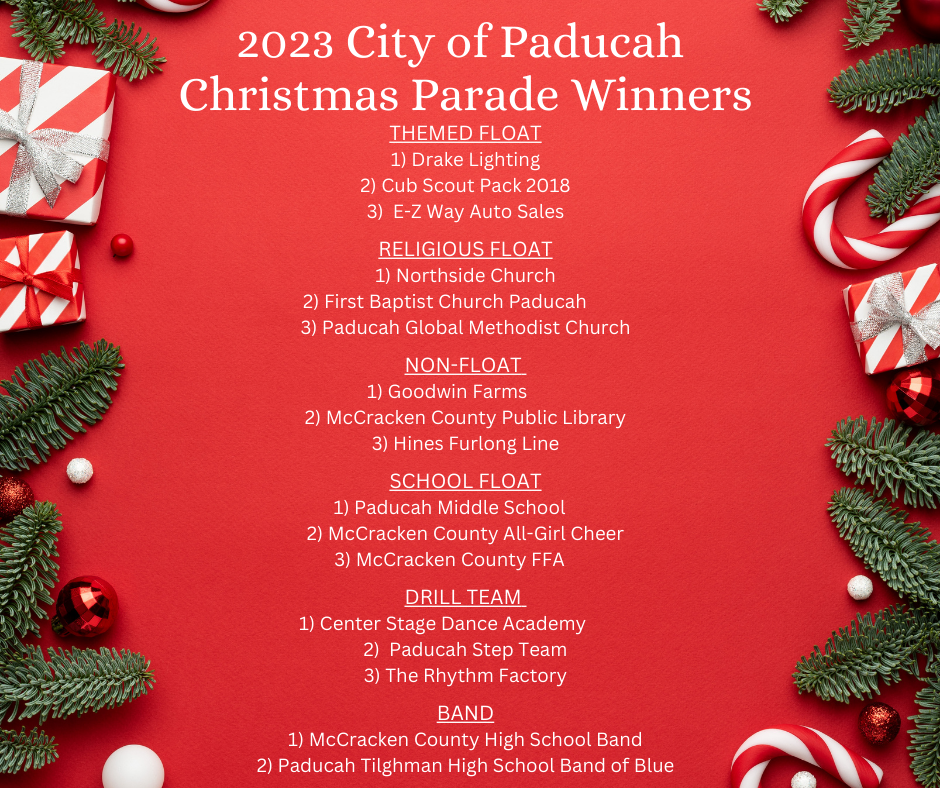 ---
Previous Christmas Parades
2022 Christmas Parade

The 2022 City of Paducah Christmas Parade was held Saturday, December 3 at 5 p.m. in historic downtown Paducah with the theme, Christmas in Candyland!

2021 Christmas Parade

2021 Christmas Parade Winners - theme was It's a Super Christmas.

 

2020 Christmas in the Trees Event

2020 "Christmas in the Trees" Float Event - The Parks & Recreation Department held a reverse parade also called an inverted parade.  The floats were stationary and attendees drove by to enjoy them.  The "Christmas in the Trees" Float event at Noble Park was December 5 from 5:30 until 9:30 p.m.  Attendees entered the park at the H.C. Mathis Drive entrance, continued along the road observing the floats, and exited at Cairo Road.  This event was limited to 42 floats with each float having no more than 40 feet of space.  2020 Christmas in the Trees Float Guidelines and Application (PDF)

2019 Christmas Parade

2018 Christmas Parade

2017 Christmas Parade

2016 Christmas Parade